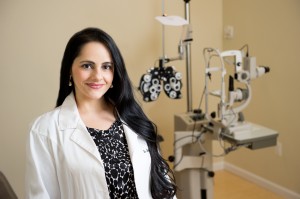 Barbara Pittaras, O.D., F.A.A.O., has been happily practicing optometry since 2002.  She earned her undergraduate degree (B.S. in Biology with a minor in Psychology) at the University of South Florida in 1998, where she graduated on the Dean's List of Scholars.  Her Doctorate of Optometry degree was completed at Interamerican University, where she was awarded the Dr. Angel Romero award for her academic achievements.   In 2002 she was also awarded the Biocompatibles Innovative Research Award by the American Optometric Foundation.
During  her fourth year training rotations, she proudly served our nation's troops at the Landstuhl Regional Medical Center Hospital, Ophthalmology and Optometry department, in Landstuhl, Germany.
She then went on to complete a Residency program at the University of Alabama at Birmingham, School of Optometry, with a focus on Cornea and Contact Lenses.  This intensive training allowed her to gain the valuable clinical skills necessary to fit the most difficult cases in the area of contact lenses.  During her residency, she was involved in the project "High and Low Contrast Visual Acuity after LASIK and Silicone Hydrogel Contact Lens Wear: A Comparative Study", a study which was funded by Ocular Sciences.
Giving back to the community and those less fortunate is important to Dr. Pittaras.  She has been on voluntary mission trips to Honduras and Peru, serving the needs of thousands of poverty stricken patients who had no other means to access eye care if it were not for organizations like VOSH who extend their kindness and generosity to help those in need.
In 2004, Dr. Pittaras earned the designation of Fellow of the American Academy of Optometry.  The letters FAAO mean that the doctor is recognized by his or her colleagues as a knowledgeable and experienced professional who has met the high standards of professional competence in a broad range of issues related to eye care.  Doctors of optometry are granted the right to use the FAAO designation, an earned distinction, only if they have achieved excellence in the field of optometry, as evidenced by the demonstration of professional competence and fulfillment of the rigorous qualifications set by the American Academy of Optometry.  As a Fellow, Dr. Pittaras is dedicated to remaining in the forefront of eyecare developments by attending continuing education programs, symposia, and lectures, particularly those presented at the Annual Meeting of Optometry, the foremost scientific and educational meeting for optometry.
The Academy promotes quality vision care all over the world.  Fellowship in the Academy is a significant and cherished achievement;  the approximately 3,600 Fellows who reside in the United States represent less than 10 percent of the practicing optometrists in the US.
Dr. Pittaras is licensed to practice full scope optometry in the states of West Virginia and Maryland.  She is fully fluent in Greek and functionally fluent in Spanish.